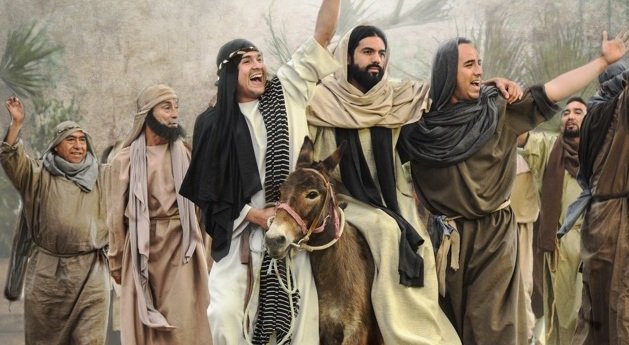 24 Jan

The 15th anniversary of JESUCRISTO VIVE- LA PASION 2019

[JESUSCHRIST LIVES -THE PASSION 2019]

Offering to all immigrants support with a positive message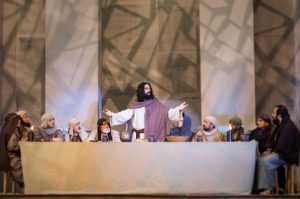 #JesucristoViveLaPasion2019
#ViveLaPasion2019
More than 200 actors on stage!
March 16 & 17, 2019 in Industry Hills Expo Center, City of Industry 
With actors of all ages, Latinos, Mexicans, Central Americans, and people of all faiths, whether Catholic, Protestant, Mormon, or simply spiritual. 

Click here to watch promotional video https://www.inpefess.com/videos/
Vesper Public Relations. January 2019. With fifteen years in existence, the play and the experience 'Jesucristo Vive – La Pasión' will be presented in the City of Industry, CA on March 16 and 17. The annual event has become the biggest and most long-lasting play about Christ's Passion in Southern California.
The intention of this play is to transmit a positive message of Christ's love to all generations, especially to young children and millennials who have experienced this love through their parents and the generations before them.  As the Passion has done for generations, this play is expected to encourage the development of faith and freedom of religious expression.  Showcasing the particular story of Jesus' journey, his apprehension and crucifixion, today the play is of major importance.  With the immigrant community affected by the government decisions about DACA and TPS, "Jesucristo Vive- La Pasion" brings them a positive message that gives them the power to keep struggling and succeeding against the struggle.
The play becomes an event that goes beyond theatrical act or liturgical celebration; its core construct is meant to have a lasting effect on history, society, culture, spirituality and politics. "Jesucristo Vive – La Pasión" also aims to be an immediate positive contribution to our community.
"Jesucristo Vive – La Pasión" will have its inaugural English language adaptation in 2020!
How do the actors prepare:
The play features more than two hundred actors on stage, with Freddy Mozza under direction since fifteen years ago. Once again, the role of Jesus goes to Mexican born actor Keven Ramirez who lives in Los Angeles; and P. Ruben Fco. Bellante from Argentina will direct the public who are part of the play as well.
The play is mostly cast with Latino actors, the majority from Southern California, with origins from Mexico, Central and South America. The actors donate and contribute their talents for more than seven months of practice before the debut of the show. The actors are selected during different castings in the counties of Los Angeles, Orange and San Bernardino. Each personification for this story (e.g. Jesus, Maria or Herodes), or any other character, includes actors of all ages and all denominations of Christian faith from Catholic to Protestan.
The physical training for the actor playing Jesus is arduous. The actor has to walk two days per week carrying a heavy piece of wood, similar to the one Jesus carried, and weighing nearly 150 lbs. and the cross for the crucifixion weights 250 lbs.
To complete this play, a variety of animals are included such as donkeys, goats, chickens, pigs, pigeons and more. Moreover, the rehearsals take place at Santa Rosa de Lima Church in Maywood, California, every Saturday and Sunday for 5 hours.
About 'Jesucristo –Vive La Pasión'
The idea to create 'Jesucristo Vive – La Pasión' began in 1986 with the original idea of P. Juan Rivas to present Vida, Pasión, Muerte y Resurrección de Nuestro Señor Jesucristo (Live, Passion, Death and Resurrection of Jesus Christ). Since the presentation of this play, 'Jesucristo Vive – La Pasión' has been presented for fifteen years.
( Spanish) Jesucristo Vive – The history narrated by father Juan Rivas founder of the play  : https://www.inpefess.com/la-historia/
For more information:
www.jesucristovivelapasion.com
https://www.facebook.com/Jesucristo-VIVE-836668399752168/
https://www.instagram.com/inpefess/?hl=en
Calendar:
Place: Industry Hills Expo Center
Address: 16200 Temple Ave, City of Industry
Saturday, March 17 @ 1:30 PM – 6:30 PM
*Red carpet with invited guests at 5:00 PM*
Sunday, March 18 @ 12:00 PM – 6:00 PM
Tickets:
https://www.eventgroove.com/event/Jesucristo-Vive-2019-31524?fbclid=IwAR1Uoq3MaJ2aV0l9WCWHFQEm0ayJ44L2ZK0P-bOYI8tqMsdb-qvFM67YE6g