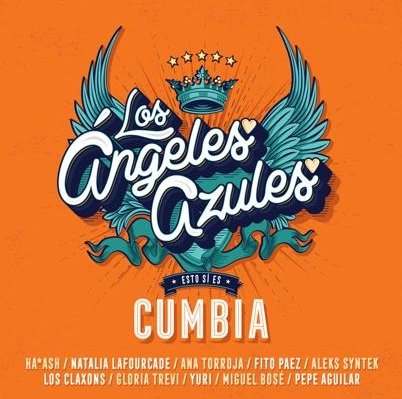 12 Jun

Mexican:Cumbia icons Los Angeles Azules release new album 'Esto Si Es Cumbia' coming to Ruido Fest & Microsoft Theatre

The ®GRAMMY nominated cumbia icons

Los Ángeles Azules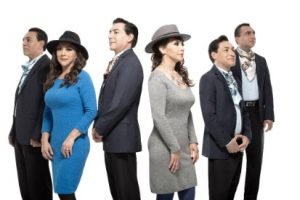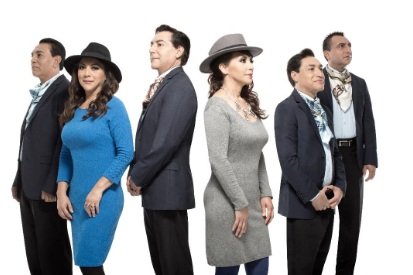 Fresh off the heels of their history making performance at COACHELLA as the first Cumbia Sonidera music group to perform at the world famous music festival 
Released new album "Esto Si Es Cumbia" featuring top Spanish pop stars
Prepare for Chicago's Ruido Fest & L.A.'s Microsoft Theatre  
Vesper Public Relations. Los Angeles, CA June 2018. After making history at COACHELLA 2018 as the first ever traditional Mexican music act to play the festival's main stage, Los Ángeles Azules, prepare for the next chapter in their 40 year music career. The band release their latest album of "cumbia sonidera" hits with today's top Spanish language pop singers.
"Esto Si Es Cumbia" debuted #1 on iTunes ( Regional Mexican & Latin Albums charts) & contains 10 songs in which the group of Iztapalapa returns to their characteristic cumbia sound.
Click here to download "Esto Si Es Cumbia"
The album tracks with special guest performances are:
1) "Perdón, perdón" Feat. Ha*Ash
2) "Nunca es suficiente" Feat. Natalia Lafourcade ( Mexican alternative star)
3) "Me cuesta tanto olvidarte" Feat. Ana Torroja ( Spanish rock icon)
4) "El amor después del amor" Feat. Fito Paez ( Argentine Rock icon)
5) "Sexo, pudor y lágrimas" Feat. Aleks Syntek ( Mexican pop star)
6) "Antes que al mío", Feat. Los Claxons ( Mexican rock band)
7) "Dr. Psiquiatra", Feat. Gloria Trevi
8) "Detrás de mi ventana" Feat. Yuri
9) "Morir de amor" Feat. Miguel Bosé ( Spanish rock/pop icon)
10) "Ni contigo ni sin ti" Feat. Pepe Aguilar
Check out Los Ángeles Azules cumbia version of "Nunca Es Suficiente" featuring Natalia LaFourcade. It's the first single off "Esto Si Es Cumbia." https://www.youtube.com/watch?v=k76BgIb89-s
Los Ángeles Azules again took inspiration on location from the beautiful state of Yucatan, Mexico whose stunning settings were perfect for recording the DVD that accompanies the new album.
"Esto Si Es Cumbia" was produced by Camilo Lara with co-producer Jorge Mejía Avante in charge of arrangements and musical direction. Abelardo Rivera, Fernando Montaño, Ricardo Acasuso Campoy, Icautli Cortés, Jacobo Velázquez, Juan Manuel Hernández Chico, Carlos Humberto Medina San Millán and Armando Ávila participated in the recording.
Hoping to repeat their success at Coachella 2018 Los Ángeles Azules has already begun preparation for their performance at Chicago's Ruido Fest. The three day music festival at Addams Medill Park has been touted as the Latin Rock version Coachella/Lollapalooza/Bonnaroo with the iconic cumbia band headlining Friday, June 22. Later this year, September 22, the band returns to L.A. to play the Microsoft Theater. Both shows are part of Los Ángeles Azules' ongoing campaign to bring ringing traditional Mexican music to new and younger audiences.
In 2018 Los Ángeles Azules has defied all odds in bringing the cumbia genre to a new generation. It was only fairly recently that 'Mexican Cumbia' music was relegated to "quinceañeras' or weddings. Now with Los Ángeles Azules seducing the Coachella crowd into dancing "la cumbia" the band has catapulted the Mexican folk music genre to new heights of cultural and social strata.
Check out some of the highlights!
Los Angeles Azules @Coachella "17 Años"
https://www.youtube.com/watch?v=3UBBohaFJ4Y
Los Angeles Azules  @Coachella "El Liston de Tu Pelo"
https://www.youtube.com/watch?v=66K8My09i1I
Media coverage of the historic COACHELLA performance of Los Ángeles Azules included:
L.A. Times
http://www.latimes.com/entertainment/music/la-et-ms-los-angeles-azules-coachella-cumbia-20180413-story.html
Orange County Register
https://www.ocregister.com/2018/04/11/coachella-2018-how-los-angeles-azules-might-turn-the-festival-into-the-worlds-largest-cumbia-party/
OC Weekly
https://www.ocweekly.com/los-angeles-azules-bring-the-cumbia-heat-to-coachella/
Billboard
https://www.billboard.com/articles/columns/latin/8310016/coachella-los-angeles-azules-interview
Billboard 2: 
https://www.billboard.com/articles/columns/latin/8342168/los-angeles-azules-coachella-chella
About Los Ángeles Azules:
Los Ángeles Azules' sound is a cumbia sonidera genre, a variation of Colombian cumbia with accordion and electronic synthesizers, creating a sound fusion of reminiscent of the 1950-1970s with those of 1990s-style electronic music. Los Angeles Azules was founded in  1976, but officially started in 1983, comprised by the siblings of the Mejía Avante family: Elías, Alfredo, José Hilario, Jorge, Cristina and Guadalupe.
Los Angeles Azules were the overall best-selling artist of 2014 in Mexico. They've earned multiple nominations for the following awards: GRAMMY, Latin GRAMMY, Premio Lo Nuestro A La Musica Latina and Lunas del Auditorio (Mexico). They are also considered the best-selling Mexican cumbia act of all time with sales of more than 3.5 million.
Now Los Angeles Azules has become a touring powerhouse with more than 250 shows in a year, 5 'Sold out' shows, performing at Mexico City's première venue 'Auditorio Nacional" (over 50,000 people during the five nights),  and introducing their unique brand of 'Cumbia Sinfonica' ( Symphonic Cumbia).
The band's most recent albums, "De Plaza En Plaza" and their previous album "Como Te Voy a Olvidar" led them to become the first Mexican artist in 15 years to earn a Double Diamond album certification for selling more than 600,000 copies in Mexico. 
RECOMMENDED VIDEOS:
Los Angeles Azules feat. Natalia LaFourcade
https://www.youtube.com/watch?v=k76BgIb89-s
Los Angeles Azules feat. Pepe Aguilar
Other Los Angeles Azules achievements include:
After two years on the market, their album "Como Te Voy A Olvidar" -Edición de Súper Lujo has never left the Top 100 of the most listened albums on Spotify Mexico.
Remained in the Top 3 chart of Popular Music AMPROFON (Mexico).
Remained 23 consecutive weeks at number one on the Top 150 of AMPROFON chart and are still the bestselling album of 2014 and the second bestselling of 2015.
Their hit songs "17 Años" Feat. Jay de la Cueva, "Mis Sentimientos" Feat. Ximena Sariñana, "Entrega de Amor" Feat. Saul Hernández and "Cómo te Voy a Olvidar" Feat. Kinky reached Gold record status in digital sales with more than 30,000 downloads each.
More than 652 million views of their VEVO channel on YouTube.
The video for "Mis Sentimientos" Feat. Ximena Sariñana has more than 142 million views.
The tour for "Cómo te Voy a Olvidar" travelled around Mexico and Central and South America and the United States offering more than 320 concerts.
The first tropical music group to perform at the Latin Rock music festival 'Vive Latino' attracting more than 40,000 attendees.
Their concert in "El Zocalo," the main square of Mexico City, where they gathered more than 100,000 fans.
FOLLOW LOS ANGELES AZULES:
Facebook: angelesazulesmx
Twitter e Instagram: @angelesazulesmx
Management: www.seitrack.mx