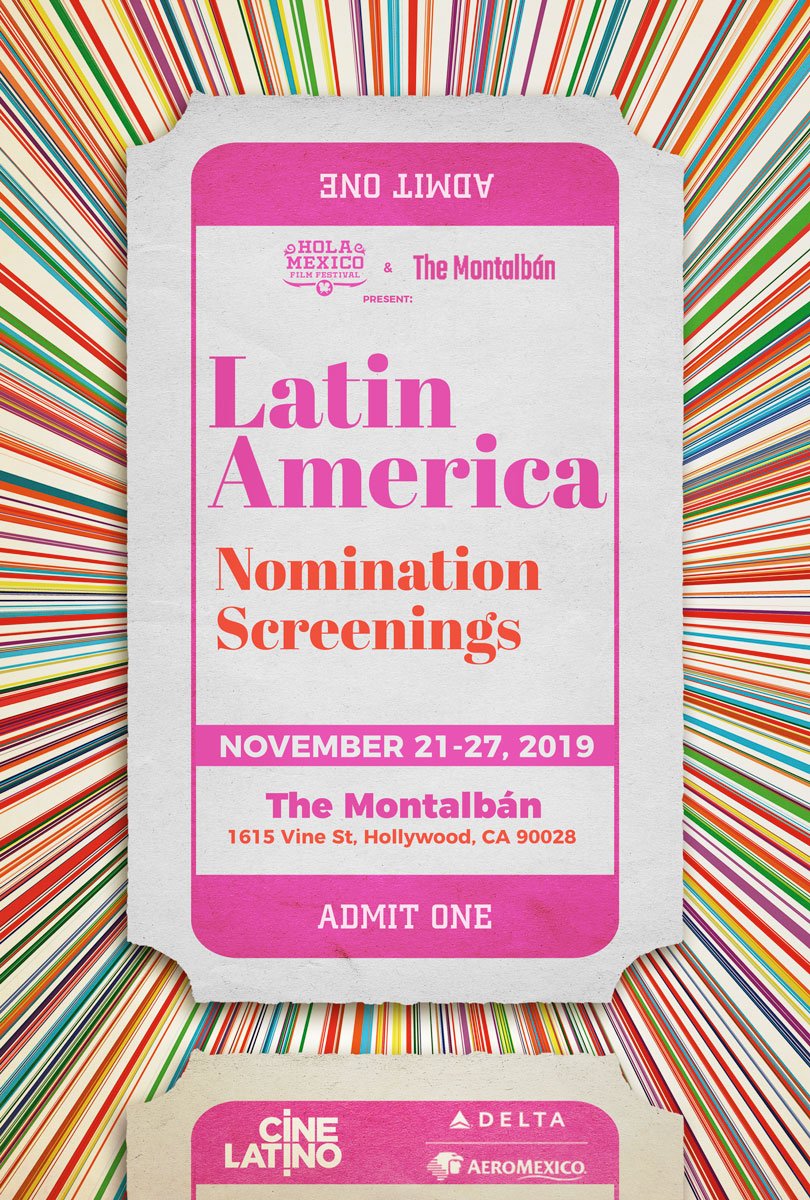 06 Nov

 HOLA MEXICO FILM FESTIVAL AND THE MONTALBÁN THEATRE PRESENT THE INAUGURAL FILM SERIES

LATIN AMERICAN NOMINATION SCREENINGS (LANS) 

Showcasing Latin American films that can be considered for an Oscar Nomination 

Argentina, Bolivia, Brazil, Chile, Colombia, Cuba, Dominican Republic, Ecuador, Guatemala, Honduras, Mexico, Panama, Uruguay & Venezuela 

#LANS2019 

November 22 – 27, 2019 at The Montalbán Theatre

FOR IMMEDIATE RELEASE – November 5, 2019 Los Angeles, CA – Hola Mexico Film Festival and The Montalbán present the first annual film series Latin American Nomination Screenings (LANS) on November 22 – November 27 at The Montalbán Theatre in Hollywood, CA. The event includes screenings of films from Latin America that various countries have selected to be considered for an Oscar nomination in the Foreign Film category.

Tickets can be purchased here: https://www.themontalban.com/lans

Hola Mexico Film Festival, which features rising and established talents in Mexican cinematography, is proud to present the inaugural edition of LANS, which they hope will bring more awareness to Latin American films, especially those which members of The Academy of Motion Picture Arts and Sciences can vote on. LANS is also the first event to bring all Latin American films that are considered for an Oscar nomination.

For its inaugural year, the films that will be presented are as follows: 'Heroic Losers'  (La Odisea de los Gile) directed by Sebastian Borensztein, "Tu Me Manques " directed by Rodrigo Bellott, The Invisible Life of Elridice Gusmao (A Vida Invisivel de Eruidice Gusmao) directed by Karim Aïnouz, 'Monos' directed by Alejandro Landes, 'A Translator' (Un Traductor) directed by Rodrigo Barriuso and Sebastián Barriuso, 'The Longest Running Night'  (La Mala Noche) directed by Gabriela Calvache,' Café con Sabor A Mi Tierra' directed by Carlos Membreño, 'The Chambermaid' (La Camarista) directed by Lila Aviles, 'Everybody Changes' (Todos Cambiamos) directed by Arturo Montenegro, 'The Money Changer' (Asi Hablo El Cambista) directed by Federico Veiroj, 'Being Imposible' (Yo, Imposible) directed by Patricia Ortega, 'The Projectionist' (El Proyeccionista) directed by José Maria Cabral, 'Our Mothers' (Nuestras Madres) directed by César Díaz and 'Spider' (Araña) directed by Andres Wood.

"I'm really excited to finally do an event to include most of Latin America with hopes to create more buzz about his fantastic, award winning films" Samuel Douek mentioned. (Founder of Hola Mexico Film Festival & LANS)

LANS kicks off on Friday, November 22st with a screening of The Chambermaid (La Camarista). Admission for opening night costs $30 and includes two drinks and food. Admission for the following dates costs $13. All voting members of The Academy of Motion Picture Arts and Sciences can enter free of charge. Question and answer sessions with actors and directors featured in the films will follow several of the screenings, and each film will only screen once.

Full schedule and tickets are available at https://www.holamexicoff.com/ and https://www.themontalban.com/.

LANS SCHEDULE 

Friday, November 22

Time: 7:30 pm

La Camarista

The Chambermaid

Dir. Lila Aviles

MEXICO 2019, 102min

Lila Aviles' superbly acted directorial debut is an intimate look at the life of a housekeeper in a lavish Mexico City hotel. Despite her labor-intensive job, Eve (Gabriela Cartel), the film's quiet heroine, is eager to pursue her ambitions for a better life. Even if constantly combating everyday perils, she decides to enroll in an adult education program and forms bonds with other women in her environment, both the working class and those from more affluent circles. The Chambermaid is an introspective journey alongside a woman stronger than her circumstances. 

November 26, 2019

Time: 6:00 PM

La Odisea de los Giles

Heroic Losers

Dir. Sebastian Borensztein

ARGENTINA 2019, 117 min

When some neighbors in rural Argentina are swindled out of their savings by an unscrupulous lawyer and bank manager, they join forces to plan an elaborate heist and take back what's theirs. Featuring the great Ricardo Darín, the latest from director Sebastian Borensztein is a rousing tale of working-class solidarity and collective revenge.

The year is 2001, and Argentina is hitting the lowest point in its great depression. His glory days far behind him, retired soccer star Fermín (Darín) now runs a service station in a sleepy provincial town. Hoping to pull his family and their community out of decline, Fermín seeks to convert some abandoned grain silos into a viable storage facility. He convinces friends to invest in the cooperative but is railroaded by a conniving bank manager into placing their cash into a savings account just as the banks are about to be frozen by the government, rendering their money useless and their plans quashed. For a time, things seem only to get worse until rumors spread of a secret depository containing the cooperative's pilfered cash and much, much more. With Fermín as their Robin Hood–esque leader, the group conspires to infiltrate the cache, but it's going to take some serious resolve, a little inspiration, and a lot of luck to pull off this honest-person heist.

November 24, 2019

Time: 9:00 pm

Tu Me Manques

Dir. Rodrigo Bellott

BOLIVIA 2019, 105min

Director Rodrigo Bellott adapts his stage play — a sensation in Bolivia — into an emotional exploration of three men's struggles to reconcile identity and heritage. Following his son Gabriel's death, Jorge travels from conservative Bolivia to New York City to confront Gabriel's boyfriend Sebastian. While the two battle over Jorge's inability to accept his son, Sebastian channels his grief into a bold new play in honor of his lost love, in which Gabriel's inner turmoil is transformed into an eye-popping gay fantasia. 

November 23, 2019

Time: 9:00 pm

A Vida Invisível de Eurídice Gusmão

The Invisible Life of Eurídice Gusmão

Dir. Karim Aïnouz

BRAZIL 2019, 139min

The year is 1950. Classical piano prodigy Eurídice (Carol Duarte) dreams of studying at the Vienna Conservatory. Her sister, Guida (Julia Stockler), however, is the first of the siblings to make it to Europe, albeit fleetingly: after having eloped with a Greek sailor, Guida soon returns to Rio de Janeiro pregnant and alone, unbeknownst to Eurídice. Kept apart by a terrible lie, years pass as the two sisters forge their respective paths through their city's teeming bustle, each believing the other to be half a world away.

November 23, 2019

Time: 9:00 PM

Monos

Dir. Alejandro Landes

COLOMBIA 2019, 103min

A MONO, Alejandro Landes' awe-inspiring third feature, is a breathtaking survivalist saga set on a remote mountain in Latin America. The film tracks a young group of soldiers and rebels — bearing names like Rambo, Smurf, Bigfoot, Wolf and Boom-Boom — who keep watch over an American hostage, Doctora (Julianne Nicholson). The teenage commandos perform military training exercises by day and indulge in youthful hedonism by night, an unconventional family bound together under a shadowy force known only as The Organization. After an ambush drives the squadron into the jungle, both the mission and the intricate bonds between the groups begin to disintegrate. Order descends into chaos and within MONOS the strong begin to prey on the weak in this vivid, cautionary fever-dream.

With a rapturous score by Mica Levi (only her third, after UNDER THE SKIN and JACKIE), director Alejandro Landes examines the chaos and absurdity of war from the unique perspective of adolescence, recalling LORD OF THE FLIES and BEAU TRAVAIL in a way that feels wholly original. Landes brings together a diverse cast of both seasoned professionals (including Hannah Montana's Moises Arias) and untrained neophytes and thrusts them into an unforgiving, irrational and often surreal environment where anything can happen — even peace.

November 26, 2019

Time: 9:00 pm

Un Traductor

A Translator

Dir. Rodrigo Barriuso & Sebastián Barriuso

CUBA 2017, 107min

Rooted in the little-known true story of how twenty thousand Chernobyl victims were eventually treated in Cuba, Un Traductor unfolds as a tale at once historical and personal, brought to life in crisply shot, beautifully realized period detail of a Havana on the brink of economic crisis.

Havana, 1989: Russian literature professor Malin receives a mysterious note at the university with orders from the government sending him to a local hospital, where he learns he is expected to act as translator between Cuban doctors and the families of young patients from the Chernobyl disaster. Initially raging against his new role, Malin is forced to stay on and eventually becomes deeply devoted to his patients. But while he becomes "king of the kids" at the hospital, his relationships with his pregnant wife and young son suffer. Meanwhile, life around all of them shifts as the "Special Period"—the economic crisis in Cuba that followed the dissolution of the Soviet Union—begins.

November 27, 2019

Time: 9:00 PM

La Mala Noche

The Longest Night

Dir. Gabriela Calvache

ECUADOR, MEXICO 2019, 95min

Dana, a beautiful woman, turns to prostitution against her will. She must surrender her income to the leader of a human trafficking ring, but her daughter's illness and a drug addiction prevent her from delivering her usual share. Dana decides to take matters into her own hands when she meets a young girl that might end up just like her. Gabriela Calvache's uncompromising feature debut throws a harsh spotlight on the sexual abuse and exploitation of women and children across Latin America.

November 27, 2019

Time: 6:00 PM

Cafe Con Sabor A Mi Tierra

Dir. Carlos Membreño

HONDURAS 2019, 2019, 120min

Cafe Con Sabor A Mi Tierra is a story inspired by real events, which revolves around a coffee producing family (from Marcala, Honduras) in which their harvest is impacted by the plague of rust and low coffee prices. Trying to survive, migration will be one of the options to save their farm, but it will not be the biggest obstacle they will have to overcome. Death will also put them to the test and measure them to see if a strong family bond is unbreakable, showing the sacrifice, passion and faith that exists behind a cup of coffee consumed in the world.

November 25, 2019

Time: 6:00 PM

Our Mothers

Dir. Cesar Diaz

GUATEMALA, BELGIUM 2019, 77min

Our Mothers is a multiple award winning including Cannes drama. In modern Guatemala, the government is immersed in the trial of the soldiers who sparked the Civil War. Victim statements come one after another. While identifying the missing, young forensics anthropologist Ernesto comes across a lead that might help uncover the mystery of his father, a guerrillero who disappeared during the war. Against his mother's and coworkers' wishes, the flings himself body and soul into the case, hoping to find truth and resilience.

November 24, 2019

Time: 3:30 pm

Todos Cambiamos

Everybody Changes

Dir. Arturo Montenegro

PANAMA, 2019

The Ponce family is a perfect family that lives in the quiet mountain town of Bambito, Panama. Federico is a successful father, while Carol is a loving mother of three wonderful children. Despite the perfect appearances, Federico and Carol share a secret: when they have a date night, they are accompanied by Lizzie – a fun and confident woman who is actually Federico dressed up as a woman. What perhaps began as a fun game, soon becomes Federico's struggle to keep his family together and save his own life when he chooses to undergo gender reassignment surgery in Thailand.

November 25, 2019

Time: 9:00 PM

Asi Hablo El Cambista

The Money Changer

Dir. Federico Veiroj

URUGUAY, ARGENTINA, GERMANY 97min

Seizing on the shaky regional economy to earn a quick fortune, enterprising Montevideo money launderer Humberto Brause ruthlessly plays the currency markets, embarking on increasingly shady deals. Blinded by ambition, he's soon juggling multiple illegal schemes across South America, but his success could come with a steep price. Though rooted in history, this idiosyncratic 1970s-set thriller bristles with immediacy as Humberto's position becomes ever more precarious.

November 23, 2019

Time: 3:30 PM

Yo, Imposible

Being Impossible

Dir. Patricia Ortega

VENEZUELA 2018, 97min

Ariel is a young religious dressmaker who, after a failed sexual encounter, discovers a secret her family has tried to hide all of her life: she was born intersex but, after corrective surgery, raised as a girl. A decision is now on her horizon: she can either keep living as a socially accepted but oppressed woman or live her life as an intersexual person and face the judgement of society.

About Hola Mexico Film Festival:

Founded in 2008, Hola Mexico Film Festival, the largest Mexican Film Festival outside of Mexico, strives to highlight the best and brightest talents in Mexican cinematography. Spanning comedies, dramas, horror films and documentaries, the Festival showcases high quality films in a festive atmosphere in conjunction with exclusive parties and outdoor concerts. Celebrating its 11th edition, Hola Mexico Film Festival returns to Los Angeles May 31 – June 8 offering film enthusiasts a chance to screen many beloved Mexican films and interact with the filmmakers and talent through special events. Sponsors include: DishLATINO, Cinelatino, Corolla, HBO, Delta, Aeromexico, Herradura, and UNAM LA.