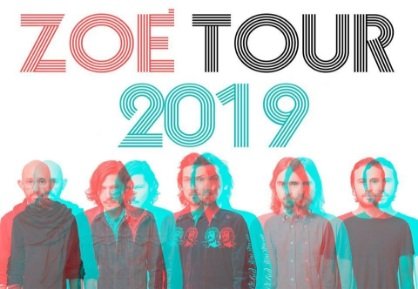 05 Feb

HipMerch se va de gira con Zoé, en USA y Canadá

Vesper Public Relations: Los Ángeles, CA. Febrero 2019.  HipMerch se va de gira con  Zoé, una de las bandas de rock mexicano más aclamadas de las últimas décadas, dará inicio a su muy anticipada gira 2019 en USA.

Iniciando el 13 de febrero en el House of Blues de Boston, Massachusetts, el grupo interpretará sus grandes éxitos y también lo nuevo de su álbum el cual este año  ha recibido una nominación al Grammy tradicional "Aztlán".

"El título del álbum, Aztlán, hace referencia a nuestra gente. Es una invitación para descubrir la belleza y la riqueza de nuestra cultura, y verse dentro de sí mismos para poder recuperar la dignidad y el orgullo Mexicano," expresó el vocalista de la agrupación, Larregui. "Esta es una reflexión del pasado con la esperanza de que al reinventarnos nosotros mismos en un futuro cercano, sigamos manteniendo nuestro 'Mexicanismo' en un mundo global. Este concepto no necesariamente tiene impacto directo en el sonido de las canciones, fue más bien conceptual", comentó.

A éste tour  único y multicultural que sólo una banda con el sonido de Zoé puede lograr, le acompañará en la mayoría de las fechas las bandas canadienses Metric y July Talk. 

Hip Merch ofrecerá una serie de artículos oficiales como: vinilos, gorras, tour posters, hoodies, beanies, calcetines, etc. 

GIRA 

Febrero

13 – House of Blues – Boston, MA

14 – The Fillmore – Philadelphia, PA

15 – The Fillmore – Washington, D.C.

18, Kings Theatre – Brooklyn, NY

19 – Wellmont Theatre – Montclair, NJ (Zoé only)

22 – Marathon Music Works – Nashville (Metric & Zoé)

24 – Tabernacle – Atlanta, GA

26 – The Aztec Theatre – San Antonio, TX

28 – Revention Music Center – Houston, TX

 

Marzo

1 – Southside Ballroom – Dallas, TX

2 – Moody Theatre – Austin, TX (Metric & Zoé)

4 – The Van Buren – Phoenix, AZ

5 – Cal Coast Credit Union Open Air Theatre – San Diego, CA

6 – The Hollywood Palladium – Los Angeles, CA

8 – The Majestic Ventura Theatre – Ventura, CA (Zoé only)

9 – House of Blues – Anaheim, CA

10 – The Chelsea Theatre (The Cosmopolitan) – Las Vegas, NV

11 – Riverside Live – Riverside, CA

13 – The Masonic – San Francisco, CA

14 – Ace of Spades – Sacramento, CA (Zoé only)

16 – The Moore – Seattle, CA

18 – The Depot – Salt Lake City, UT

20 – The Fillmore – Denver, CO

22 – Aragon Ballroom – Chicago, IL

24 – Queen Elizabeth Theatre -Toronto, CA (Zoé only)

HipMerch se ha consolidado como la empresa de la predilección de los artistas de la música Latina e internacional quienes han depositado su confianza en la empresa para crear una experiencia inolvidable para sus seguidores quienes desean adquirir todo lo relacionado con su artista favorito durante sus giras por Estados Unidos ofreciéndoles artículos de calidad como: playeras oficiales, vinilo, CD edición especial y DVDs.

Los invitamos a ingresar a la página oficial de Facebook para estar enterados de las actividades de HipMerch y la página oficial para comprar http://www.hipmerch.com

Sobre HipMerch.com

HipMerch.com, ya ha realizado exitosamente múltiples giras con importantes estrellas de la música Latina como: Ana Gabriel, Alejandro Fernández, Alejandra Guzmán, Amaral, Belanova, Beto Cuevas, Café Tacuba, Camila, Chayanne, el ganador de múltiples discos Oro y Platino Cristian Castro, Diego El Cigala, Ednita Nazario, Emmanuel, Enrique Bunbury, la banda de rock alternativo Enanitos Verdes, Fobia, Ha'Ash, Hombres G., Joan Manuel Serrat, estrella internacional Joaquín Sabina, Juan Gabriel, Juan Perro, Julieta Venegas, Kabah, Kinto Sol, La Oreja de Van Gogh, La Ley, La Unión, el famoso grupo Chileno Los Bunkers, la banda de rock Argentino Los Cafres, la leyenda ganadora al GRAMMY® Marco Antonio Solís, Miguel Mateos, Miguel Bose,  Mikel Erentxun, Moderatto, Moenia, la enigmática banda de rock Molotov,OV7, Raphael, Sentidos Opuestos, Siddhartha, el dueto romántico Sin Bandera, las estrellas internacionales Wisin y Yandel, Yuri, Yuridia, y la banda de rock Zoé.

Hip Merch es propiedad del veterano de la industria musical Hugo González,  la cual es una división de Hip Latin Music, LLC, una compañía que incluye publishing, cine y colocación temas en televisión, además de música digital, mercadeo, distribución de video, sello de grabación, y consultoría musical.