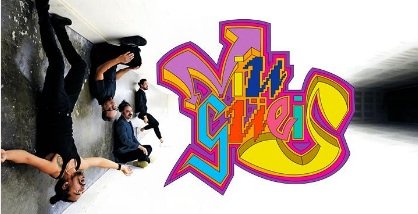 28 Aug

HipMerch se une a la gira 'NIU GÜEIS TUR' de CAFÉ TACVBA

Vesper Public Relations: Los Ángeles, CA. Agosto 2018.  HipMerch se une a la  gira con las estrellas del rock mexicano CAFÉ TACVBA.

CAFÉ TACVBA, la banda de rock alternativo más importante de México, realizara su gira por USA denominada: 'NIU GÜEIS TUR'.

Con más de 25 años de carrera a sus espaldas y un enorme inconformismo creativo, CAFÉ TACVBA se ha ganado el derecho a ser considerada una de las propuestas más importantes del panorama musical latinoamericano. Su sonido, que mezcla rock, folk, electrónica o punk, ha logrado romper fronteras y seducir también a numerosos adeptos por Europa y por el mundo entero. Coleccionan Grammys Latinos, un Grammy y su álbum Re fue nombrado por la revista Rolling Stone "Mejor disco latino de rock de todos los tiempos".

Hip Merch ofrecerá una serie de artículos oficiales como  CDs, vinyl, serigrafías y playeras oficiales de la agrupación.

Fechas:

Agosto

30, Majestic Ventura Theatre, CA

31, Del Mar Racetrack, Del Mar

Septiembre

1, Gallo Center for the Arts, Modesto, CA

2, Crest Theater, Sacramento, CA

5, The Independent, San Francisco, CA

6, The Independent, San Francisco, CA

7, The Independent, San Francisco, CA

8, The Independent, San Francisco, CA

9, The Independent, San Francisco, CA

11, The Moore Theatre, Seattle, WA

12, Arlene Schnizer Concert Hall, Portland OR

14, Eccles Theatre, Salt Lake City, UT

15, Mishawaka Amphitheatre, Bellvue, CO

17, First Avenue & 7th St, Entry Minneapolis, MN

18, The Rave/Eagles Club, Milwaukee, WI

20, St. Andrews Hall, Detroit, MI

21, Agora Theatre & Ballroom, Cleveland, OH

22, Fillmore Philadelphia, Philadelphia, PA

23, College Street Music Hall, New Haven, CT

25, New Jersey Performing Arts Center ( NJPAC) Newark, NJ

26, Danforth Music Hall, ON, Canada

29, Concord Music Hall, Chicago, IL

30, Concord Music Hall, Chicago, IL

Octubre

2, Mercury Ballroom, Louisville, KY

3, War Memorial Auditorium, Nashville, TN

5, Uptown Theater, Kansas City, MO

6, Delmar Hall, St. Louis, MO

7, Diamond Ballroom, Oklahoma City, OK

9, El Rey Theatre, Albuquerque, NM

10, The Fillmore Auditorium, Denver, CO

12, Troubador, Hollywood, CA

13, Troubador, Hollywood, CA

14, Troubador, Hollywood, CA

19, House of Blues, Las Vegas, NV

21, Rialto Theatre, Tucson, AZ

HipMerch se ha consolidado como la empresa de la predilección de los artistas de la música Latina e internacional quienes han depositado su confianza en la empresa para crear una experiencia inolvidable para sus seguidores quienes desean adquirir todo lo relacionado con su artista favorito durante sus giras por Estados Unidos ofreciéndoles artículos de calidad como: playeras oficiales, vinilo, CD edición especial y DVDs.

Los invitamos a ingresar a la página oficial de Facebook para estar enterados de las actividades de HipMerch y la página oficial para comprar http://www.hipmerch.com

Sobre HipMerch.com
HipMerch.com, ya ha realizado exitosamente múltiples giras con importantes estrellas de la música Latina como: Ana Gabriel, Alejandro Fernández, Alejandra Guzmán, Amaral, Belanova, Beto Cuevas, Café Tacuba, Camila, Chayanne, el ganador de múltiples discos Oro y Platino Cristian Castro, Diego El Cigala, Ednita Nazario, Emmanuel, Enrique Bunbury, la banda de rock alternativo Enanitos Verdes, Fobia, Ha'Ash, Hombres G., Joan Manuel Serrat, estrella internacional Joaquín Sabina, Juan Gabriel, Juan Perro, Julieta Venegas, Kabah, Kinto Sol, La Oreja de Van Gogh, La Ley, La Unión, el famoso grupo Chileno Los Bunkers, la banda de rock Argentino Los Cafres, la leyenda ganadora al GRAMMY® Marco Antonio Solís, Miguel Mateos, Miguel Bose,  Mikel Erentxun, Moderatto, Moenia, la enigmática banda de rock Molotov,OV7, Raphael, Sentidos Opuestos, Siddhartha, el dueto romántico Sin Bandera, las estrellas internacionales Wisin y Yandel, Yuri, Yuridia, y la banda de rock Zoé.

Hip Merch es propiedad del veterano de la industria musical Hugo González,  la cual es una división de Hip Latin Music, LLC, una compañía que incluye publishing, cine y colocación temas en televisión, además de música digital, mercadeo, distribución de video, sello de grabación, y consultoría musical.