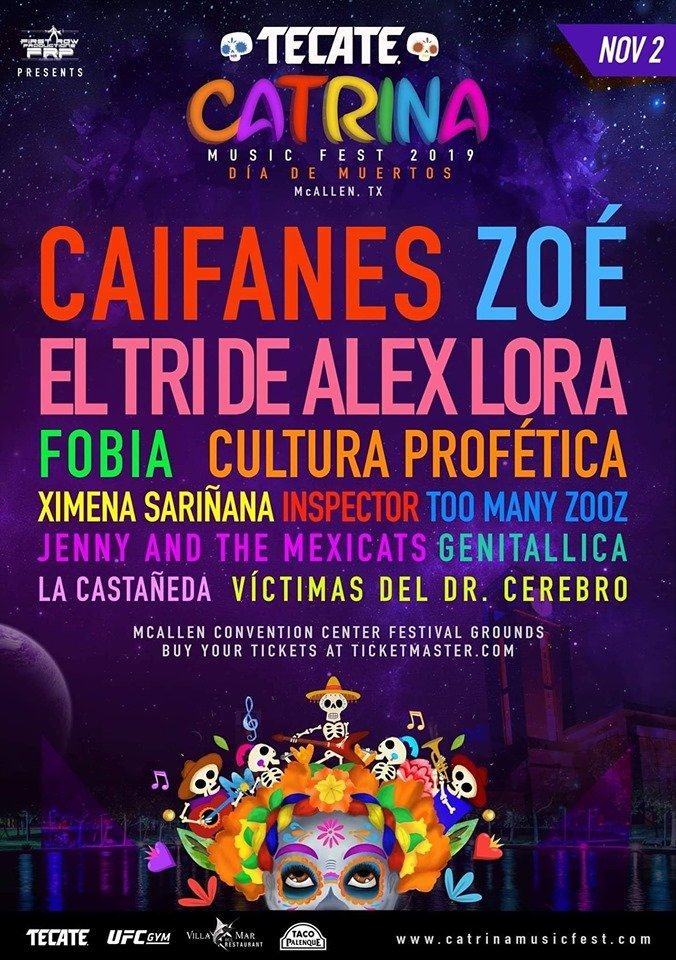 22 Sep

HIP MERCH SERA LA EMPRESA A CARGO DEL MERCHANDISE DEL TECATE CATRINA FEST EN MCALLEN TEXAS

Sábado 2 de Noviembre 2019

 

Vesper Public Relations. Los Ángeles, CA. Septiembre 2019– La empresa líder de merchandise HipMerch,  será la empresa encargada de uno de los festivales Latino Americanos más importantes en Estados Unidos: Tecate Catrina Fest el cual se realizara el  sábado 2 de noviembre, 2019 en McAllen Convention Center Feestival Grounds.

El Tecate Catrina Fest contara con un elenco estelar de: Caifanes, Zoe, El Tri de Alex Lora, Fobia, Cultura Profetica, Ximena Sariñara, Inspector, Too Many Zooz, Jenny and The Mexicats, Genitallica, La Castañeda, Victimas del Doctor Cerebro.

Boletos ya a la venta: www.catrinamusicfest.com

HipMerch se ha consolidado como la empresa de la predilección de los artistas de la música Latina e internacional quienes han depositado su confianza en la empresa para crear una experiencia inolvidable para sus seguidores quienes desean adquirir todo lo relacionado con su artista favorito durante sus giras por Estados Unidos ofreciéndoles artículos de calidad como: playeras oficiales, vinilo, CD edición especial y DVDs.

Los invitamos a ingresar a la página oficial de Facebook para estar enterados de las actividades de HipMerch y la página oficial para comprar http://www.hipmerch.com

Sobre HipMerch.com
HipMerch.com, ya ha realizado exitosamente múltiples giras con importantes estrellas de la música Latina como: Ana Gabriel, Alejandro Fernández, Alejandra Guzmán, Amaral, Belanova, Beto Cuevas, Café Tacuba, Camila, Chayanne, el ganador de múltiples discos Oro y Platino Cristian Castro, Diego El Cigala, Ednita Nazario, Emmanuel, Enrique Bunbury, la banda de rock alternativo Enanitos Verdes, Fobia, Ha'Ash, Hombres G., Joan Manuel Serrat, estrella internacional Joaquín Sabina, Juan Gabriel, Juan Perro, Julieta Venegas, Kabah, Kinto Sol, La Oreja de Van Gogh, La Ley, La Unión, el famoso grupo Chileno Los Bunkers, la banda de rock Argentino Los Cafres, la leyenda ganadora al GRAMMY® Marco Antonio Solís, Miguel Mateos, Miguel Bose,  Mikel Erentxun, Moderatto, Moenia, la enigmática banda de rock Molotov,OV7, Raphael, Sentidos Opuestos, Siddhartha, el dueto romántico Sin Bandera, las estrellas internacionales Wisin y Yandel, Yuri, Yuridia, y la banda de rock Zoé.

Hip Merch es propiedad del veterano de la industria musical Hugo González,  la cual es una división de Hip Latin Music, LLC, una compañía que incluye publishing, cine y colocación temas en televisión, además de música digital, mercadeo, distribución de video, sello de grabación, y consultoría musical.