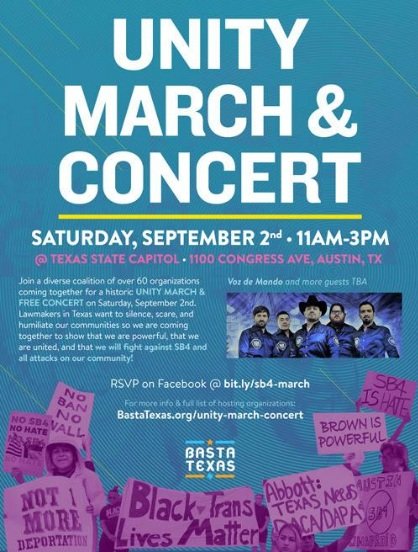 03 Aug

Grammy Nominated Musicians to join protest of Texas' anti-immigrant policies

As the fight against SB4 gains national attention, Voz de Mando,

an LA Based group with roots from Mexico join the resistance

September 2, 2017 in Austin Texas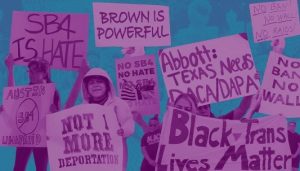 Vesper Public Relations. Los Angeles, CA. August 2017. Austin, Texas – Immigrant rights organizations within Texas and across the country are developing plans for the Latino is Powerful Concert & March in Austin, TX on Sept 2 to protest Texas's anti-immigrant policies (including SB4 and recent attacks on Dreamers).    Today, two-time Latin Grammy nominated recording artists ,Voz de Mando announced that it will join this effort, encouraging residents, musicians, and others to refuse to remain silent in the face of policies that seek to bully and terrorize Latinos.    The groups, joining together under the banner #BastaTexas, seek to stop the hateful and racist SB4, to defend DACA, and to elevate the voices of immigrants and Latinos throughout the state.
The March, happening on September 2nd is three (3) days ahead of the deadline given to the federal government to end the renewal of DACA. If the program is renewed, the Attorney General from 10 states have threatened to sue the Trump administration.
Grupo Voz de Mando, issued the following statement:  "We believe in unity, not division. We are pleased to join our voices with others in Texas who are coming together to demand the respect that our people deserve."
Pablo Alvarado, Executive Director of NDLON:  "As we learned in Arizona in 2010, when a state policy seeks to make immigrants' lives miserable in order to bully them into leaving, a celebration of our culture and music can become tools of resistance.  We are pleased to stand w/ Voz de Mando and other artists in sending a very simple  message:   we will not comply with the Texas governor's hateful agenda."
Cristina Tzintzun, Executive Director of Jolt: "Latinos are the future of Texas: we make up 1 in 3 eligible voters and soon we'll be the majority. We are powerful and we are coming together on September 2 to demand dignity and respect. We are excited to stand with Voz de Mando on this historic day."
Basta Texas Quote: "Artists are key to making visible the injustices that our communities face. We all must gather the courage to fight back and speak out in defiance of unjust laws and legislation that targets immigrants and the Latino community.
Learn about #BastaTexas https://bastatexas.org/grammy-nominated-musicians-join-protest-texas-of-anti-immigrant-policies/
Contacts:
Mariluz González, Voz De Mando/Publicist: mgonzalez@vesperpublicrelations.com (818) 667-6403;
Armando Carmona, NDLON, 323-250-3018, armando@ndlon.org;
Tania Mejia, Jolt,  (979) 308-9634, tania@jolttx.org
Share the event on:
Twitter: @BastaTexas
& Instagram (use hashtag #BastaTexas)
Organize your friends and family