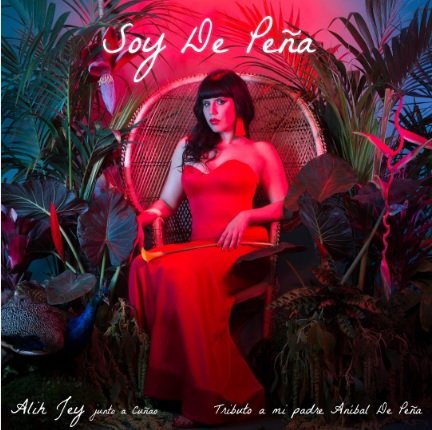 25 May

Grammy®-nominated Dominican singer-songwriter Alih Jey releases today her highly anticipated album SOY DE PEÑA

A tribute to her renowned father Aníbal De Peña, in collaboration with Latin folk band Cuñao 

"Just like how international star Rosalia is reimagining Flamenco, Grammy nominated singer-songwriter Alih Jey is breathing new life into boleros. Trust me, her new single Mi Debilidad is definitely worth checking out, it's romantic, it's authentic and the sound is just rich all around."

– L.A. Taco 

Album release show at Civic Center Studios in Los Angeles on May 30th to also include sets by Nina Diaz (of Girl in a Coma), Cuñao, and the legendary Aníbal De Peña in his second ever Los Angeles performance 

Vesper Public Relations. Los Angeles, CA. (May 2019) – The genre-defying Dominican bilingual singer-songwriter Alih Jey will release her newest album, Soy De Peña, on May 24th, 2019. Alih Jey presents a distinctive approach to alternative folk music within an ever-growing roster of Dominican female artists. Dominican women have been taking center stage in music, and Alih is bringing her bolero-indie flavor and fresh eclectic sound into the mix. A bona fide rockera and previously Grammy-nominated for Best Rock Solo Vocal album, Alih kicks it up a notch in her newest release by revamping culturally significant songs from the Dominican Republic.

Soy De Peña chronicles her family's musical heritage with tributes to her father (Aníbal De Peña)'s much beloved repertoire, and her grandfather (Aníbal De Peña Sr.)'s lesser-known musical poems.  Aníbal De Peña is considered a key figure in the Dominican Republic's Golden Age of music with a catalogue ranging from romantic boleros to songs with social justice and political messages. De Peña's biggest success "Mi Debilidad," is a melancholy love song, and the first single from Alih Jey's tribute album. In Latin America a "peña" is a celebratory gathering of artists presenting their work and can also mean mountain. This confluence of meaning is an appropriate title for a project dedicated to a rich and meaningful musical legacy.

Soy De Peña – Alih Jey (Junto a Cuñao)

https://soundcloud.com/alihjey/sets/soy-de-pena-masters/s-4a1dB

"While remaking Mi Debilidad, I changed the time signature from 4/4 to 6/8, because it just felt right to me! And it turns out that the new version sounds a lot like an older genre from the 1860s in the Dominican Republic called the Dominican 'criolla'.  I realized the lyrics and melody of my father's original bolero song combined with my triple time variation and Cuñao's stripped down arrangements, gave it that criolla feel. It was pretty exciting! The criolla's precursor is actually the 'barcarola' of Venice, Italy (a rhythm reminiscent of the gondolier's stroke, almost invariably in 6/8 meter at a moderate tempo), that got to the DR in the 1850s. Hence, the triple meter characteristic," says the young recording artist.

Cameron Bartolini produced the album after an introduction to Alih Jey by another Dominican artist Jarina De Marco. After listening to a recording of a live performance of the songs, he felt a distinct connection to the music and story. The project is also collaboration with Alih Jey's fellow artists and friends Cuñao, a Latin alternative folk band. This collaboration between Alih Jey and Cuñao provides a fresh take on this timeless music while remaining true to Aníbal De Peña's classic songs.

To celebrate the release of Soy De Peña, Alih will perform at Civic Center Studios in Los Angeles on May 30th. Nina Diaz, the guitarist/singer of the celebrated indie rock band Girl in a Coma, will be opening the night, and Alih's collaborators, Cuñao, will treat the audience to some of their originals. Alih's father Aníbal De Peña will also be sharing the bill in a rare Los Angeles performance for the celebrated singer/songwriter. The show will be his second performance ever in city of angels.

SONG INFO

"Esperanza" (By Aníbal De Peña Sr.)

Alih's grandfather, Aníbal De Peña, Sr, wrote this song as a serenade for Alih's grandmother, Esperanza, in the 1930's. Alih's father recorded it in the 1960's and it became one of his most beloved songs.

"Déjame Beber" (By Aníbal De Peña)

"Déjame Beber" means "Let me drink you." It's about desiring someone deeply, and wanting to satiate that thirst.

"Tú No Tienes La Culpa" (By Aníbal De Peña Sr.)

"Tú No Tienes La Culpa" was written by Alih's grandfather and features a duet with Alih and her father on the album – three generations in one song.

"Enriquillo" (By Aníbal De Peña)

"Enriquillo" is about the Taino warrior of the same name that fought against the Spanish. It's an epic poem that Aníbal wrote as a metaphor for the Dominican Civil War. It is still sung in Universities and schools all over the Dominican Republic.

"Déjame Ver" (By Aníbal De Peña)

This song is about being totally enthralled by a lover.

"Mi Tristeza" (By Aníbal De Peña)

This song stands out in the album because of its doo wop feel. While going through her father's repertoire, this one seemed especially unique to Alih. It's about falling into despair and longing to be released from heartache.

"Tal Vez Mañana" (By Pablo Herrero. Originally performed by Aníbal De Peña)

The title means "Maybe tomorrow", which fits in perfectly to the song's theme of heartbreak. Cuñao sings in a big chorus behind Alih.

"A Mi No Me Interesas" (By Alih Jey De Peña)

The only composition penned by Alih on the album. It's about a breakup.

"Mi Debilidad" (By Aníbal De Peña)

"Mi Debilidad" is the first single off the record and Alih' dad's biggest success in the 1960's.

ALBUM CREDITS

Recorded, produced and mixed at Lineage Studios by Cameron Bartolini

Co-produced by Alih Jey

Arranged by Alih Jey, Cuñao and Cameron Bartolini

Mastered by Samuel Knaack

All songs by Aníbal De Peña except A Mi No Me Interesas by Alih Jey and Tal Vez Mañana by Pablo Herrero

Published by Peer International Corporation (BMI) except for "A Mi No Me Interesas" by Sapo Verde Music – Sony/ATV (BMI)

MUSICIANS

Lead vocals and acoustic guitar: Alih Jey

Lead vocals: Aníbal De Peña

Violins: Tom Moose and Gabriel Ramirez

Mandolin: Tom Moose

Accordion and piano: Severin Behnen

Vocals: Julio Montero

Bass: Josel Cruz

Cajón: Craig Shields

Percussion: Isaac Rodríguez

Background vocals: Cuñao

GUEST ARTISTS

Jarina De Marco, vocals on "Esperanza"

Nancy Sánchez, vocals on "Mi Tristeza" and "Tal Vez Mañana"

Fernanda Ulibarri, vocals on "Mi Tristeza" and "Tal Vez Mañana"

Edwin Burgos, vocals on "A Mi No Me Interesas"

ALBUM ART

Album cover photo by Myles Pettengill

Back cover and inside photo by Pete Galindo

Art Direction by Jarina De Marco

Graphic Design by Jenny Dodge

 

ABOUT ALIH JEY: 
Alih Jey is a Grammy®-nominated singer and songwriter living in Los Angeles, CA of Dominican Republic roots.
In 2008, she was the first Dominican nominated for a Latin Grammy® in the category of Best Rock Solo Vocal Album for her independently released album Necia. Alih is also a featured vocalist and writer on "Déjame Bailar", Los Rakas' single from their Grammy®-nominated album Los Rakas.
She has performed at major festivals and events such as SXSW, LAMC, LALIFF, The Grammy Music Series, L Festival, The Casandra Awards (Premios Soberano), The Miami Music Festival, and Dominicana Moda. 
As a songwriter, Alih Jey won the BMI award in 2016 for co-writing Ricky Martin's hit single "Adrenalina (Spanglish version)." On stage, Alih has performed with Gloria Estefan, Paulina Rubio, Aleks Syntek, Bacilos, and La Quinta Estación. Alih has also collaborated with multi-Grammy winners Sebastian Krys and Elsten Torres (Fulano), Jarina De Marco, Francisca Valenzuela, Huey Dunbar, Paulina Rubio, and Frankie J.
Discography: (Albums and EPs): Alih Jey (2001), Gotas de Piel (2004), Necia (2008), Tarte (2011) & Car Trouble (2014). 
RECENT PRESS
L.A. Taco
"Just like how international star Rosalia is reimagining Flamenco, Grammy nominated singer-songwriter Alih Jey is breathing new life into boleros. Trust me, her new single Mi Debilidad is definitely worth checking out, it's romantic, it's authentic and the sound is just rich all around."
https://www.lataco.com/gtfo-420-edition/ 
NPR – SXSW Interview
https://www.npr.org/sections/altlatino/2019/03/22/704953496/alt-latino-food-truck-chats-musicians-tell-their-own-stories-at-sxsw-2019
NPR
"Backed by the LA-based retro folk outfit called Cuñao, ["Mi Debilidad"] is an evocative torch song, sung in Spanish… it's intimate, powerful, and a wonderful statement from [Alih Jey]."
Fuerza Y 'Debilidad': Our Favorite Latin Songs This Week https://n.pr/2RG6YsW
KCRW  "MI DEBILIDAD"
http://blogs.kcrw.com/music/2019/01/pan-caliente-alih-jey-mi-debilidad-song-premiere/  
SOCIAL MEDIA/MUSIC
Follow Alih Jey @alihjey
Listen on Soundcloud: https://soundcloud.com/alihjey