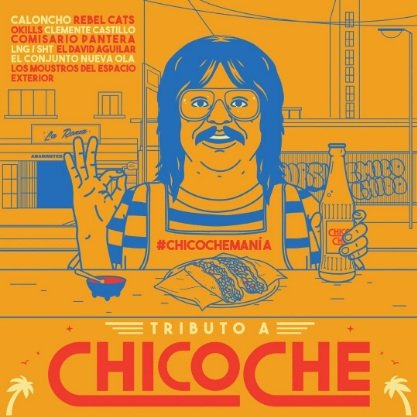 31 Aug

Conjunto Nueva Ola spearheads #Chicochemania in the U.S. with "Chido Chido" off new Tribute to Chico Che album

El Conjunto Nueva Ola spearheads #CHICOCHEMANIA in the U.S, with the launch of a revamped version of "Chido Chido" & a new music video off the forthcoming 'Tribute to Chico Che' album

A CD/DVD combo featuring covers of the iconic Mexican singer/songwriter Chico Che set for September 28, 2018

KCRW Pan Caliente "Chido Chido" Video Premiere

http://blogs.kcrw.com/music/2018/08/pan-caliente-el-conjunto-nueva-ola-chido-chido-video-premiere/ 

KPCC Take Two (45:20) 'Tuesday Reviews Day'

http://www.scpr.org/programs/take-two/2018/08/28/18858/

Includes Tributo A Chico Che by a group of contemporary Latin artists as well as Quén Pompó Reloaded by Chico Che's son Chico Che Chico 

Vesper Public Relations. Los Angeles, CA. August 2018. Celebrating the enduring legacy of the iconic Mexican singer/songwriter Chico Che with #CHICOCHEMANIA, a CD/DVD combo which includes Tributo a Chico Che and Quén Pompó Reloaded is set for Septemeber 28, 2018 release under Universal Music Latin label.

Pre-order of 'Chico Che Tribute' on iTunes:

https://itunes.apple.com/us/album/tributo-a-chico-che/1428394970

'Chido Chido' video: https://www.youtube.com/watch?v=2FzQxNhlEoM

Download: Mp3 "Chido Chido"

https://drive.google.com/file/d/1nnXTImPqE1awPLUjG03G5fzQWiGTteBH/view?usp=drivesdk

Despite his early passing in 1989, Chico Che's artistic influence on cumbia and other tropical styles is as strong as ever, and a diverse group of talented artists have joined forces to spread his music further.

The new release features re-interpretations of several of Chico Che's classic songs performed by Chico Che's son Chico Che Chico and a stellar cast of Latin Alternative artists whose styles range from rockabilly and indie rock to electro cumbia. They include Caloncho, Rebel Cats, Comisario Pantera, El Conjunto Nueva Ola, and El David Aguilar.

KCRW's Pan Caliente blog recently premiered the music video for "Chido Chido", the first single off the new combo album. The cover is performed by the Los Angeles-based- Mexico City origin, luchador mask-donning cumbia band El Conjunto Nueva Ola. In their seven-year career, the six-member group has developed a cult following via their tight instrumentation, quirky re-interpretations of songs by classic Latin and American artists, and gimmicky high-energy stage shows. When performing live, band members wear extravagant costumes and personalized Mexican wrestling masks to maintain their anonymity.

Francisco José Hernández Mandujano, better known as Chico Che, was a musician, singer, songwriter, and performer from Villahermosa, Tabasco, Mexico. Throughout his career, he founded several notable groups including Los 7 Modernistas, Los Temerarios de Tabasco, and La Crisis. In twenty years, he recorded more than forty albums and four hundred songs. Although his blossoming career was cut short by his early death, he remains beloved by his loyal fanbase for his distinct look, energetic performing style, and his unique mix of cumbia and tropical styles.

¡Que viva EL CONJUNTO NUEVA OLA!