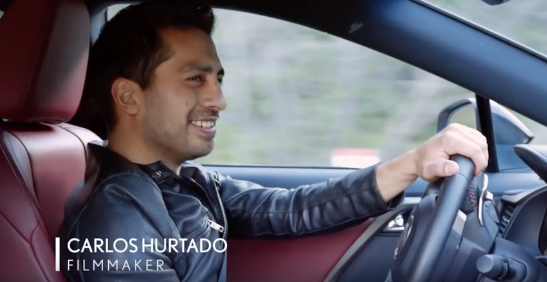 26 May

Carlos A. Hurtado Represents Latinos in Los Angeles in Alegría magazine and in Lexus commercial

CANNES award –winning filmmaker Carlos A. Hurtado

Represents Latinos in Los Angeles in Alegría magazine and shows his passion for film in Lexus commercial.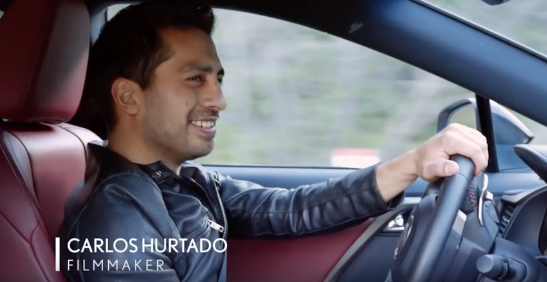 Vesper Public Relations. Los Angeles. May, 2016. Cannes award-winning Mexican-American director and producer, Carlos Hurtado has been privileged with dozens of awards these past few years. In 2016 Carlos A. Hurtado demonstrates his passion for filmmaking in the pages of the bilingual magazine Alegría. The luxury and Latin arts and lifestyle magazine featured Hurtado in their article "the power of Latinos in America."
This publication represents successful Latinos in United States. Alegría interviewed the award winning filmmaker about his beginnings when he discovered his passion for the film industry, his awards and recognitions that includes a great milestone at the Cannes Film Festival; and the happy engagement to his future wife.
Carlos Hurtado's successful career is highlighted via a special guest appearance on a Lexus commercial in which the filmmaker expresses his style and taste for making and creating something new in film.
Click the following link to view the inspiring commercial:
Hurtado's winning documentary "Hollygrove "continues to get recognition with a screening at the Latino Media Vision Festival that took place in the Egyptian Theatre late last year. Also the "Hollygrove" trailer was showcased at NALIP Latino Lens Showcase.
"Hollygrove" has been showcased and awarded at the Cannes Film Festival at the American Pavilion Emerging Filmmakers showcase presented by American Express and at the St. Tropez Film Festival in where he won at both festivals for "Best Short Documentary".
The film touches on the case of a young girl named 'Monserrat' who's life was changed for the better from her time at Hollygrove, the same orphanage where a young Norma Jean Baker (later known as Marilyn Monroe) lived as a child.
The successful short documentary, "Hollygrove" wrapped up 2015 with another honor in the Hollyshorts Film Festival, an annual monthly film showcase that highlights various films from all genres. "Hollygrove-The True Life Story of Monserrat", made headlines by having its official theatrical screening release at the world famous TLC Chinese Theatre in Hollywood and it also officially qualified for consideration for a nomination at the 87th Academy Awards / Oscars.
Carlos Hurtado also earned the following awards for his work: music video "Hands on Me" [music artist: Jaysin Voxx] – won for Best Music Video at Cinerockom International Film Festival & music video "Emotions / Emociones Traviesas" [music artist: Socioo] – won for Best Music Video at NYLA International Film Festival.
"Hands On Me" music video by artist Jaysin Voxx and directed by Carlos A. Hurtado was chosen on October 2015 as winner of Best Music Video at the 4th Annual San Pedro International Film Festival, a festival founded to embrace the community and culture of San Pedro.
Click her for official website http://www.carloshurtadofilms.com/portfolio.php
Click here for a trailer of "Hollygrove": https://vimeo.com/98015256
Official list of winners including Carlos A. Hurtado:
http://www.dailyseni.com.my/v3/news/cannes-film-festival-hands-out-awards/
Carlos Hurtado's work has been featured on CNN, (3) times on Univision, Azteca, Telemundo article [June 2014] Playboy radio, LATV, Moviemaker Magazine, Estrella TV [last June 2014].
Success never comes over night. In Carlos Hurtado's case, his road blocks to success brought life threatening challenges from being severely ill as a child, struggling to make a living and having a few of his teachers/coaches bringing him down. These struggles could've easily led to failure, but failure was not an option to Carlos Hurtado and his best support system, his parents. Today, his talent, uniqueness and drive have lead him to winning over 40 awards in the past 2.5 years and receiving over 100 nominations in multiple categories ranging from films, music videos to commercials internationally and nationally.
In 2014, Carlos Hurtado was selected as one of the Top 200 directors for the HBO show "Project Greenlight", produced by Ben Affleck and Matt Damon. He had a very inspiring interview in where he describes his passion for film as, "Finding that place in life that even when you're down and out, no one believes in you, you go at it, you don't stop, you continue to believe in yourself. I think film bridges the gap of what we think we can't do and what we really can. It's creating dreams."
The Loyola Marymount University Film graduate is a firm-believer of chasing his dreams and doing what he's passionate about. As a film student he had major accomplishments such as: receiving Kodak grant for a short film, working at Dreamworks SKG studios and being nominated for a student academy/Oscar for another short film that was broadcasted on TV for 10 years on KCET.
Another of his current goals is to direct his debut feature film in his native country, Mexico. In which there is no doubt in our minds, it will be another milestone accomplishment for Carlos Hurtado.
Carlos A. Hurtado
www.carloshurtadofilms.com
Video for which he was chosen by HBO 'Green Light' as the 200 directors.
Video directed that won several awards
Interview on Moviemaker Magazine
Interview/Bio on HBO Project Greenlight
www.vimeo.com/105255030